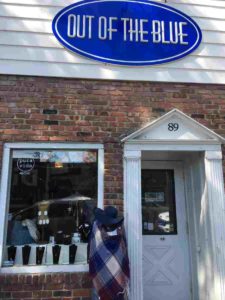 It's a safe bet to say the Safe Stop program, launched last week by the Greater Sayville Civic Association, is a win-win initiative for the Sayville community, strengthening ties between business owners, parents, children and the community-at-large.
"We're not sending out a message that Sayville is unsafe. Our message is we are a community that looks out for each other and takes care of our kids," said civic president Christine Sarni when asked what motivated the group to start Safe Stop. It was the brainchild of Civic member Courtney Fenyo and Sarni, following an incident where a high school student was beaten up right outside of a business on Main Street. Believing in the old adage "It takes a village" and remembering a program run in the city called Safe Haven, they thought inviting the business community to open their doors to a child in a troubling or dangerous situation would be possible in Sayville.
Sarni supplied the program's four important goals: to welcome our young community members into our town to patronize our businesses and turn them into loyal longtime consumers; to reassure parents that our community is safe enough to allow their children to walk through town and visit our shops; to identify businesses who pledge to provide a safe, welcoming place for children who may feel lost, scared, nervous or hurt to seek help; and to create an environment where preteens and teens are aware that appropriate behavior is expected of them and that we are always keeping an eye on them. The program is reciprocal, if kids are acting up in town; the civic wants them to know the community is watching.
The first business to sign up was Out of the Blue. The shop employee, Gail Moore, said she immediately said yes. "The kids come in already to shop for themselves or for presents. The middle school kids are the cutest, sweetest kids," she remarked.
They know this store is a safe spot. When school was out they were in every day, especially for trendy hair ties or Puravida products since they are affordable and kid-friendly.
Richard Carrier from Stride Rite thinks it's a great idea. "While attending a town event recently, I saw a child being harassed," so when approached by Civic to join, he jumped at the chance. "There are times a kid may need to use the phone. Every town should have such a program," he said.
Ten stores were initially recruited by a committee of five, and following the launch 10 more businesses signed up.
Suggested guidelines businesses are encouraged to follow are supplied by Civic and called "Safe Stop Best Practices": First, assess whether a child is in distress. Signs of distress include heavy breathing, shaking, sweating, disorientation, running and hiding, not making eye contact or crying. The business's representative should ask if they need help and what kind of help they may need. Offer to call the police to help assist in their problem, issue, or concerns. Make contact with the parent and have the child remain until the parent arrives at the location. Lastly, create a plan within the business for every employee to be aware of and follow, which could include just letting the child stay for a few minutes until they feel safe again and have calmed down.
With the help of concerned, community-oriented Sayville businesses, it can be said that Safe Stop has become a viable alternative for a child seeking assistance. It's no wonder Sayville is still considered one of the "Friendliest Towns in America."