Closures associated with COVID-19 are threatening the health of Long Island's many downtowns and the livelihoods of those who own businesses and employ workers there.
The renaissance of once-dormant downtowns has become increasingly important to municipalities that want to attract millennials, young families and retirees to areas with a transportation hub, retail and entertainment options and a vibrant nightlife. Though shopkeepers and restaurateurs express an almost paradoxical optimism that their businesses will survive, the virus is challenging the ability of once-vibrant areas to spring back to life after the pandemic retreats and will make it harder for those languishing or in the midst of revitalization efforts to move forward.
"Some of them are not going to be able to sustain it," said Islip Town Councilman James P. O'Connor, who recommends residents shop local to help businesses get through the crisis. "Unfortunately, I think that is the reality."
Here is what business owners, local leaders and chamber officials told Newsday about their fight to survive COVID-19:
SAYVILLE: 'Our main goal here is to keep them alive'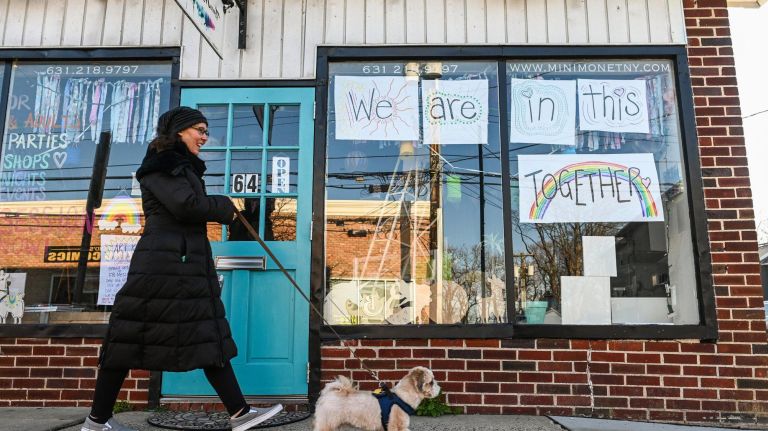 After her son was born, Eileen Tyznar would put him in a stroller and walk around Sayville's downtown. The business owners all knew her son, Matthew Tyznar Jr., now 25, by name.
Years later when she battled cancer twice, many in the local business community visited to check on her, some delivered care packages and others drove her to treatment.
"To me, it's so much more than a regular downtown," said Tyznar, 55, president of the Greater Sayville Chamber of Commerce, her voice breaking with emotion. "I know every store owner by name. They are like my family."
Sitting midway between Manhattan and Montauk, Sayville had been thriving for years. Its downtown, known for its walkability, has a mix of restaurants, clothing boutiques, home-goods shops, a winery and a movie theater.
The Long Island Rail Road train station is only blocks from Montauk Highway, known locally as Main Street. Local beaches are within walking distance. Tyznar described the area as "charming, nostalgic and old-fashioned." Councilman O'Connor called it "the picture of Americana."
Businesses that had been busy preparing for increasing foot traffic and activities along Main Street and Railroad Avenue are now in survival mode.
Tara Farrell, owner of the women's accessories and gift shop Out of the Blue, recently expanded her business' digital presence by creating a Facebook store, taking in a few online orders. But sales in general have plunged to nearly nothing given her shop relied almost exclusively on foot traffic.
Yet Farrell, 61, tries not to look at the negativity brought on by the outbreak.
"I'm always positive in thinking that we will get back to normal," she said.
***
The Chamber of Commerce, which has more than 300 members, has started a relief fund, Tyznar said. It also hosted sessions to help business owners apply for coronavirus disaster loans with the U.S. Small Business Administration.
Once the dust settles, Tyznar said businesses will have to reexamine their strategy, save up a rainy-day fund and boost their digital presence.
"Our main goal here is to keep them alive and present," Tyznar said. "When this is over, we will be throwing them the biggest event of a welcome-home that you can imagine."
Read the full article which includes Great Neck and Montauk here.