Sayville's annual Fall Festival was held on Main Street on Saturday. The event started with a parade at 10 a.m. that ended on Railroad Avenue. The parade was accompanied with Halloween music, and kids were able to show off their awesome costumes during the procession. Several of Long Island's best bands played between 11 a.m. and 5 p.m. at Gillette Park, set up by Sayville's own Jack Licitra from South Bay Arts/The Muse Within. The pumpkin-carving contest hosted by Island Salt and Spa, scarecrow contest hosted by JD Chandlery, and the homemade pie contest hosted by the Sayville Chocolatier were all big hits. Crafts were provided by Main Street store owners and vendors; there was also roasted corn, an outdoor cafe from Cafe Joelle, a pumpkin bounce house, pony rides and a petting zoo! Chamber president Eileen Tyznar said she loved the traditional, family feel of the event and was so happy to see so many people shopping in the Main Street stores. "Fall Fest was a great way to kick off the autumn season," she said. Fun was had by all and goody bags awaited all children. Fall Fest was sponsored by the Greater Sayville Chamber, TD Bank and Century 21.
Pie Contest
Nine pies were tasted and judged at the Sayville Chocolatier. A cash prize and first-place ribbon were given from the Greater Sayville Chamber for the first place winner. Ribbons and a special treat from the Sayville Chocolatier were given to all entrants from owners Mary Ellen Verbarg and Jessy Mordente.
First-place winner was Tommy Manikas for his tasty apple crumb pie made with ginger, thyme lemon zest, salted caramel and apple crumb! Second-place winner Dan Schroder, made a mouthwatering butterscotch nutella pie!
Pictured is Jen King, an employee at the Sayville Chocolatier, and one of the owners, Jessy Mordente, holding up some of the pies.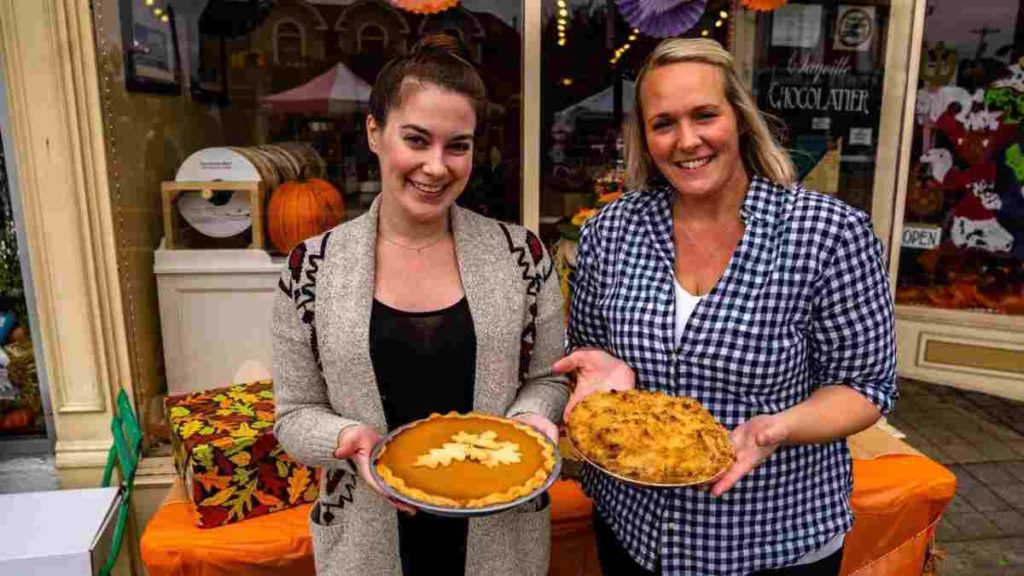 Annual jack-o'-lantern contest
Island Salt and Spa owner Michelle Flecken hosted the annual chamber carved pumpkin contest. A cash prize and first-place ribbon were awarded from the Greater Sayville Chamber president Eileen Tyznar and runner-ups received treats from Sayville Chocolatier.
First-place winner Evi Scapellati carved an incredible pumpkin with a skeleton climbing out of the mouth of a jack-o'-lantern! Others included pumpkins garnished with seeds and spiders and scary faces!
Pictured is Michelle Flecken, owner of Island Salt and Spa, with the carved pumpkins.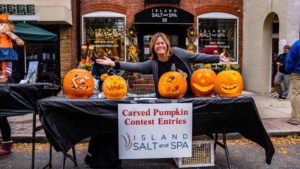 First annual scarecrow contest
The contest was hosted by Donna Kirk, owner of JD Chandlery. A beautifully engraved telescope was given to the winner from JD Chandlery as well as a first-place ribbon and cash prize by the Greater Sayville Chamber. The winner was also Evi Scapellati.
Pictured is Eileen Tyznar and her son Matthew with the winning scarecrow.