The Greater Sayville Chamber of Commerce will be hosting their annual Summer festival on August 9th, 10th and 11th of 2019. The festival will take place outdoors and will encompass the entire downtown Sayville area. This is an extensively advertised event which draws very large crowds. We would like to invite you to join our artists and crafts people in an exhibition and sale of their work as part of the Summer Festival. Accepted applications will be contacted via email no later than July 25th, 2019.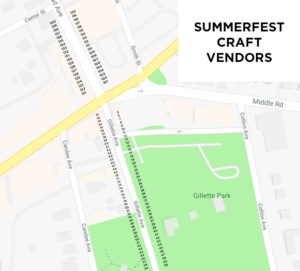 The following are the Festival guidelines:
Booths

MUST

be set up by 8:30 AM and show time is 9:30am on Saturday and Sunday

The fee for the two day festival is $200.00 if paid before July 1st, 2019. ($250.00 if paid after July 1st.) Payment must be submitted via through this online portal.
Outdoor space dimensions are 10 x 10.
This in OUTDOOR event. Due to the size and nature of the event, weather conditions are monitored by officials. If it is determined that inclement weather is passing the event will continue as planned. It is IMPERATIVE that all vendors bring tarps or other materials to protect their merchandise as temporary unpleasant conditions may prevail. It is your responsibility to protect your wares.
*ALL crafts MUST be handcrafted by the submitting craft person
*Two photos will be requested, along with the application payment. One photo should show and example of your work and the other should be of your display booth.
*There are 5 specific prize categories. Please indicate on application which category you would like to be judged in.
Fiber Arts: Soft sculptures, quilts, pillows, crocheting, basketry, rug making and related fabric items.

Woodcrafts: Handmade wooden items, whether painted or plain. Functional or decorative.
Jewelry: Handmade by vendor only. Absolutely no commercially produced jewelry will be accepted.
Floral Art: Handmade florals, silks, dried, shells or other.
Sculpture: Ceramic, stained glass, metal-smithing, stone and jewelry.
All Categories stated above MUST be handmade/homemade and cannot be store bought or mass produced or manufactured.
The Chamber of Commerce reserves the right to request the removal of any work it deems objectionable for any reason. No imported or kit produced items will be accepted. Your official resale certificate must be on display at all times during the festival. We are limited to 140 spaces and are working on a first come – first serve basis according to post mark date. Your immediate response will be in your best interest, and your space designation will follow at a later date. There are NO REFUNDS for any reason once the committee accepts your application for a spot. Please bring confirmation of assigned space with you. Without it, you may not get into your space.
Crafts and Park Coordinator: Robin Cogswell – sayvillesummerfest@icloud.com