test


Summerfest Main Page | Summerfest Run | Car Show | Forms | Sponsors
August 7, 8, & 9 2015
* Please note that this year's Summerfest is scheduled for the SECOND week in August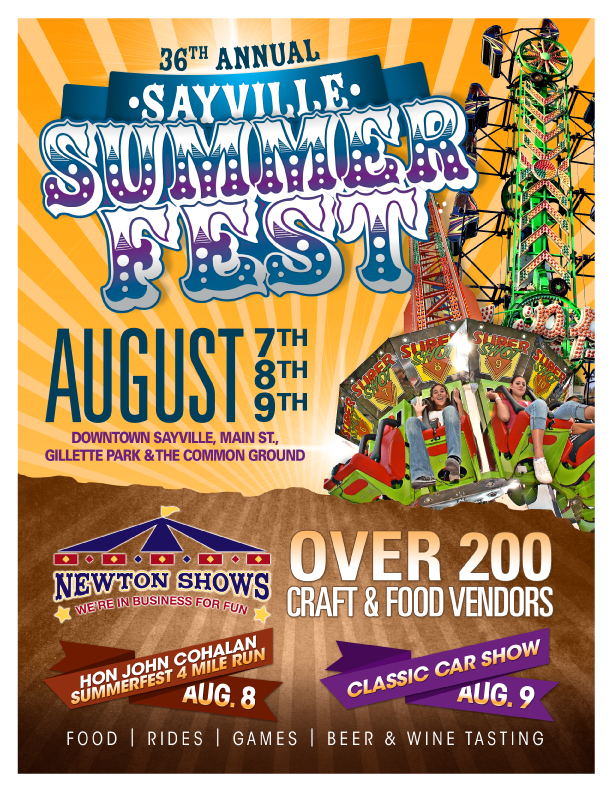 PLATINUM SPONSORS:
---
GOLD SPONSORS:

---
SILVER SPONSORS:
EVENT DETAILS:
Plans for the 36th Annual Summerfest for 2015 are well underway, and it is sure to be the best ever! Two big changes! Summerfest's date was changed this year – and will be the second weekend in August.We have a new carnival operator as well. Newton Shows will bring a fresh new element of excitement and fun with new rides and games that families will love!
There's always a tremendous amount of entertainment, with live music in all genres, fabulous food, the art show, craft vendors, and so much more that will be detailed here and on the Sayville Summerfest Facebook page.
Once again, Summerfest will feature the last race of the Sayville Summer Series on Saturday, the morning of August 8th, the Hon. John P. Cohalan Sayville Summerfest 4 Mile Run (applications links will be posted here) and our famous car show on Sunday August 9th!If you received the 2014/2015 Sayville School Calendar in the mail last August, do note the date change occured after the printing – and will be on Aug. 7th, 8th, and 9th, NOT as marked in the calendar.
---
LOCATION:
The event will occur on several streets radiating from downtown – Main Street/Montauk Highway (CR 85), South Main Street, Gillette Avenue, Candee Avenue, Railroad Avenue as well as Rotary Park & the Common Ground, Gillette Park, & Sparrow Park.
---
ADMISSION:
GENERAL ADMISSION: FREE!
Walk around and visit the many wonderful vendors and watch the many performances scheduled throughout the day.
CARNIVAL RIDES & OTHER ATTRACTIONS:  PRICE VARIES
Check back later for more details.
---
EVENT FORMS & APPLICATIONS:
*** All Food Vendor Spaces Are Now FULL ***
 2015 Summerfest Sponsor Form 

2015
---
Summerfest Street & Park Vendor Applications
---
Still Cruisin' Car Club Show Entry Form
---
Sayville Summerfest Run Entry Form
---
Sayville Summerfest Sidewalk Art Show
---
Questions About This Event?
---
EVENT MEDIA GALLERY
Click below to view the Summerfest Facebook page.