TEACH Consulting Services, Inc.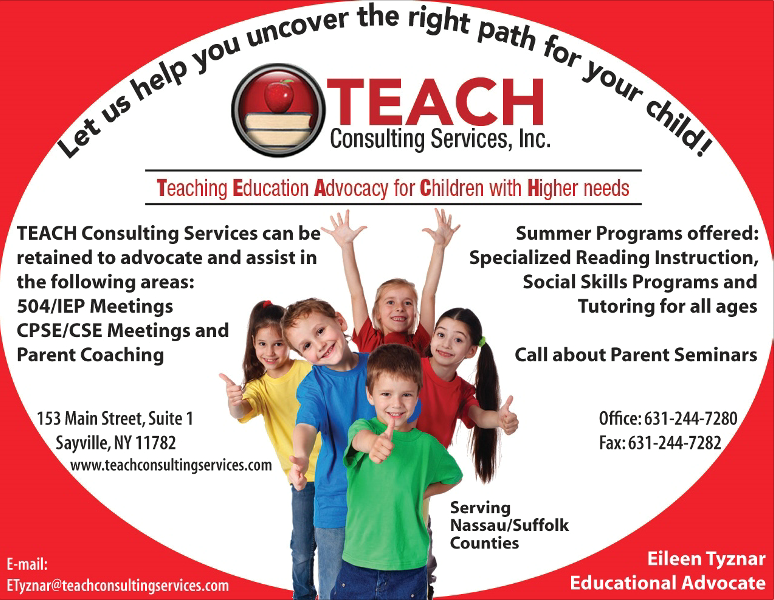 153 MAIN STREET SUITE 1, Sayville NY 11782
41-153 West Main Street
Sayville
New York
11782
US
Do you struggle with navigating the Special Education Maze?   Let Teach Consulting Services help you uncover the right path for your child!
TEACH Consulting Services, Inc. provides services to empower parents with the knowledge and the advocacy skills to help maximize their child's academic achievement and social success. As an Educational Advocate for over 15 years, Eileen Tyznar states that she "teaches parents how to navigate the Special Education Maze". TEACH Consulting Services also presents an effective approach for obtaining appropriate educational programs and related services designed to meet the unique needs of every child with special needs as well as gifted and twice exceptional children.
About us:
TEACH Consulting Services provides advocate and consulting services, parent coaching and training for families of children with developmental disabilities, i.e. physical, emotional, behavioral, or learning disabilities. We also provide educational consulting and advocate services for children who are twice exceptional and/or gifted (504 students). Our goal is to assist parents in getting appropriate services for their child and we are committed to helping the student make academic progress in the least restrictive environment.
TEACH Consulting Services can be retained to advocate and assist in the following areas:
504 Meetings
IEP Meetings
Tutoring- Grades K-12 (All subjects)
FBA/BIP Meetings
Manifestation meetings
Transition meetings
Bullying concerns
Evaluation Process
Disciplinary Hearings
Call (631) 244-7280 or (631)244-7281 and ask for Eileen Tyznar or send an email to ETyznar@teachconsultingservices.com
We service Nassau & Suffolk County!